As a data-driven digital marketing agency based in Pakistan, we possess the expertise to enhance your online business's ranking while creating captivating visual content.

Being the Best Digital Company with 200+ Customers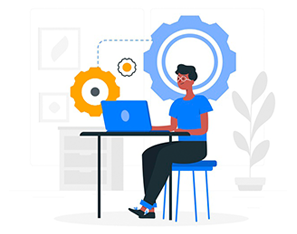 Our team of creative designers design eye-catching graphics related to your niche.
We provide professional SMM services to give you the social exposure you deserve
Our professional developers create a response website for your brand/business.
Welcome to Haque Tech, the premier digital marketing agency in Karachi, dedicated to helping businesses expand their online presence. With our innovative approach, we provide unparalleled digital exposure for remarkable brands. Our comprehensive range of services includes Social Media Marketing, Graphic Designing, SEO, Mobile Application Development, and Website Development, all of which contribute to establishing a distinctive and enduring brand identity. Specializing in web development, IT, and design, we seamlessly transition businesses from the physical to the digital realm.
As the leading digital marketing agency in Karachi, we proudly serve clients not only throughout Pakistan but also around the world. Our expertise in SEO, Social Media Marketing, and Website Development empowers businesses to thrive in the digital landscape. With a track record of delivering exceptional results, we have earned our reputation as one of the best digital marketing agencies in Karachi and beyond.
Have A Project In Mind? Let's Get To Work
Lets have a cup of tea together & discuss.
Our Best Services We Provide!
Experience the impact of our exceptional brand marketing services at Haque Tech. We specialize in raising brand awareness, driving revenue growth, and delivering a strong return on investment. As one of Pakistan's top digital branding agencies, we develop strategies to sustain positive revenue trends, leading to increased profitability. With our team of knowledgeable experts, we possess a deep understanding of the digital marketing landscape. Trust Haque Tech to optimize your brand's performance and unlock its full potential.
We Thanks To All Our Clients
Who Reviewed HaqueTech Services